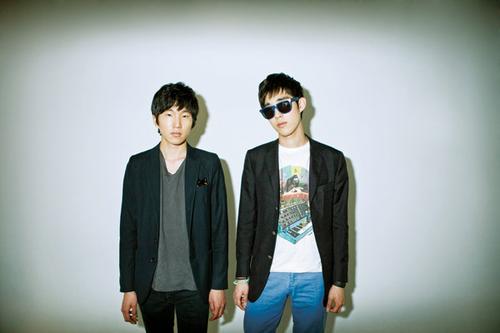 Combine an interesting, unconstrained take on music and an indie 3 piece band from Seoul and you get
Glen Check.
June-One Kim is in charge of the vocals and guitar while Hyuk-Jun Kang's duty lies in the bass and synthesizer. For live performances and studio recordings, they collaborated with a variety of different drummers. Their sound is definitely electropop but they aren't afraid to constrict themselves to one genre.
Once I heard the song concorde, I knew I liked this band. I needed to get my hands on more of their stuff and Haute Couture was just the album I needed. The 2012 album won the Best Dance and Electronic Album at the 2013 Korean Music Awards and it deserves that title. All of the tracks are so strong on their own but they flow effortlessly into one another. The hooks are fantastic and there are so many different details in each song. I love how the vocals take a backdrop position in some song but a front line position in other songs like French Virgin Party. The element of adding both contemporary and classic instruments make an amazing and unique contrast. It's weird because the two seem to suit each other perfectly yet at the same time they don't. I'm really impressed with the choice of instruments, not only that but the album on a whole. Even the track titles all seem to suit the idea of "Haute Coutre".
Recommended Song: Racket